– Updated May 2019 –
The Darién Gap. A stretch of land between the countries of Panamà and Colombia, with 90 km of unpassable jungle, and no road in between.
The only way you have to go on with your journey is to go AROUND it.
Years ago there used to be a convenient ferry traveling this route, but it got cancelled so your only option is to depart from your vehicle and travel separately.
Only exception is if you are traveling with a motorbike or bicycle, then you can ship them with a flight or cross with the Stalhratte boat, depending on its itinerary (right now it's in Cuba for example, so as of April 2019 not an option, but it keeps changing location so my tip is to contact the Captain directly and enquire). Our agent also told us there have been problems with motorbikes recently, not allowed anymore to enter Colombia via sea, so you shall check this out.
What are your options for shipping a vehicle from Panamà to Colombia?

Container shipping: this is the most reliable and secure way. There are both fast shipping (takes 1-2 days) and slow shipping (takes 3 weeks) and the difference in prices is not something I would consider worth it.
The only problem is you have to fit the container. A 40′ high cube container is: 12 meter length x 2.30 width x 2.55 high door clearance. Inside the height is 2.66 meters.
There is a fast shipping each week and it's quite easy to share the expenses with another vehicle and possibly also one or two motorbikes.
Once you are done with your paperwork, you can leave the country.
Flat rack container: in case you don't fit a container, this is an open-air container. No problems with your heigh and width, but as it's slightly more expensive than container shipping, you may have more difficulties in finding a container buddy with whom to share it. With Tea and Seaboad, total expenses for one would be approx. 3500$.
Many other sizes may be available depending on the company. You'll find an example from Seaboard Marine HERE.
Ro-ro: roll on, roll off. This is the option most people take when their vehicle can't fit a container. It is also one of the most unsecure ways, as you'll have to leave your vehicle unattended at the port for days, and it will be left there with the keys inside. Lots of reports of vehicles being broken into and robbed, and no one takes responsibility for this as they'll make you sign a paper that states that the vehicle is empty and has nothing of value in it. The boat leaves once a month, so you better start planning this ahead of time. You are required to stay in Panamà until the boat has left, as dates changes very often, even if you already finished your paperwork and your vehicle has been consigned to the port authority. The shipping takes 1-2 days. Quote below.
Lo-lo: lift on, lift off. Basically same as ro-ro, with the difference that your vehicle will be moved with a crane so it could lead to body damages.
To help you out with the incredible paperwork job necessary, you can use an agent (not mandatory) or if you speak good Spanish and feel confident enough, you can do things yourself.
This page may be of great help in both cases… There are definitely things you shall know before adventuring into this process!
PREPARATION – PLANNING – QUOTES – AGENTS
First thing you shall do, one or two months in advance, is to check your vehicle dimensions and weight.
For the first one, Google your year, make and model followed by "dimensions" and you'll have it. Always remember to add a few cm in case you modified it – we had to add 7 cm height due to the roof windows and solar panels – and as for the weight, just keep an eye open in any highway that requires a truck weight check and politely ask the officers to weight you as well; always consider if you are full/empty of fuel and water.
Second, check if you can fit a container or not. If you can't, your best option is ro-ro.
If you fit a container, there is an amazing website that can help you find other travelers interested in sharing it with you: Container Buddies.
I know, you're not sure about your travel plans yet, you hate to travel with a fixed date planned ahead, etc. Well, Container Buddies thought about it as well. You can make your application with flexible dates (example from Panamà to Cartagena de las Indias from 1st May to 15th June) and all the website will do is to give you names and emails of other people whose dates have a match with yours.
If you have to ship ro-ro you are more independent but, as I wrote, there is only one shipping a month, so you still have to plan ahead. Check the date and be aware that you want to have it booked 15 days in advance, as it fills out quickly.
If you can, secure your vehicle against break-ins: especially with ro-ro, add additional locks to the windows (even the roof ones) and build a wall between the living space and the driver's space. Be sure your valuables come with you on your flight or sail.
Third, decide if you want to do it with an agent or not and start enquiring about quotes.
The most common agents going Panamà to Colombia are:
– Tea Kalmbach: she lives in Argentina so she won't be physically there to help you. She works with Seabord Marine Company and will send you instructions and documents via email. It's the cheapest and therefore the most popular one among travelers, and it's the one we contacted and shipped with. Contacts: what's up +5492267520418, email teakalmbach@hotmail.com
– Boris: there are many people happy with him, and many that aren't. We checked all the reviews on the Panamerican Travelers Association group, and he has ¼ of Tea's reviews. He works with the Evergreen Company.
boris_jaramillo@hotmail.com
– IVSS: we have friends who have shipped with IVSS and ro-ro in our same dates: they were impressed with how professional they were. They are the most expensive, but they provide the most comprehensive service.

The best time to start asking for quotes is 1 – 1,5 months before your departure.
We started this process in Guatemala and gave our final confirmation to the quote 15 days in advance, once we had found a Container Buddy and were both sure about the shipment date, and we were in Costa Rica at that time. Remember that you have to be there a few days in advance: in order to ship on Saturday, the last day to do the DIJ inspection in Panamà was Tuesday for us.
Fourth, when you cross the border into Panamà, the aduana will complete a form for the entry of the car (TVIP). Please check that all information in it are correct and if you find a mistake ask for a new form. Do NOT accept any corrections. This may turn into a problem when shipping.
Once you found a Container Buddy, IF your agent confirms that you have enough room for it, you may add a motorbike to reduce the costs: to find one, alongside with the website Container Buddies, you can ask in the Horizons Unlimited FB page, Panamerican travelers Association FB group and Panamerica Riders Association FB group.
Your agent will also let you know if someone else books for the same date as you, so he/she will give you better chances to find a match.
In case you are doing everything by yourself, just consider 10 cm allowance between the vehicles, and between them and the container walls.
Here is an example of a container quote.
This comes from Tea, with Seaboard Marine, and also explains the procedure and what you need; I updated the version below because we found out a few small things had changed:
Sailing: weekly, each Saturday with 1 estimated day of transit time. In Cartagena you start Monday with the import formalities and this takes 1,5 days.
Export Panama: you need 2 days. One in Panama city for a vehicle inspection (from Monday to Friday at 6 am) and a 2nd day in Colon, 80 kms from Panama city, for Aduana and Manzanillo Port. Once ready you can leave Panama by sailboat or by air (more info below).
Documents: passport, title, insurance you buy at the Panama border for USD 27 and the TVIP. Please check this form and if you find a mistake ask for a new one.
Cost sharing a 40′ container between two vehicles: USD 875.00 (to be paid for the export in Panama in USD, cash only, at a CitiBank branch) + USD 79.00 (to be paid in USD, cash only, at Manzanillo Port).
We offer the same price for the high cube container than for the standard. The Carrier, Seaboard Marine, applies the same rate and so do we. In Cartagena the port charge USD 430 for the container and if they are 2 cars each one pay 50% = USD 215.00.
Cost sharing a 40' container between two vehicles and one motorbike: USD 785.00 (to be paid for the export in Panama in USD, cash only, at a CitiBank branch) + USD 79.00 (to be paid in USD, cash only, at Manzanillo Port). In Cartagena, if they are 2 cars + 01 bike the vehicles pay 40% each one and the bike 20%, so vehicle USD 172.00 each one and bike USD 86,00.
Ps. Important notes for the shipping below!
Here is an example of a Ro-Ro confirmation with agent IVSS:
Booking number: USSAVXXXXXXXXXXXX
Vessel/Voyage: Tongala/DB908-TOL
ETD: 24/04
ETA: 25/04
POL: Manzanillo, Panama
POD: Cartagena, Colombia
Vehicle Make / Model / Year: Fiat Ducato 2008
VIN:
Vehicle Dimensions: L 5.5m, W 2.1m, H 2.75m
CBM: 31.76
Weight: 3,500
Please find costs payable below:
Fast Ship 2/3 days – Panama – Cartagena
Shipping charge (inc BAF,LSL,BL) $1,301
Panama THC $ 100
Booking & Doc Fee $ 200
Local Fees Panama (Estimate) $ 79 (paid at the port)
Local helper for clearing (in person) $ 75

Import Fees paid direct in Colombia $656
Would you prefer to be invoiced in USD, euros or pounds?
Would you like marine cargo insurance? Please let me know the vehicle value and level of cover (0.9% or 0.6%).

Insurance: If requested, insurance will be charged as a % of the insured value (vehicle value + shipping costs). We are able to offer either All risks – excluding chips, dents, scratches and marring (0.9%) & Total Loss (0.6%) on this route.
Next Steps:Around 10 days prior to sailing, we will reconfirm the sailing date and send you instructions for the port and local procedures.
We will invoice you, payment is required prior to delivery of the vehicle to the port.
Kind Regards,
Nicole Cardozo, IVSS – International Vehicle Shipping Services
UK T: +44 (0) 208 144 4161, US T: +1 347-741-8804, F: +44 (0) 207 183 6774. Web: IVSSUK.com
Office Hours: Monday – Friday 9am to 5pm (Time Zone United Kingdom) . Closed on Public Holidays & Weekends
---
All prices are subject to change, and exchange rate fluctuations. Any quotation is calculated as per the dimensions declared to us, cargo may be measured at the port and the measured dimensions payable, penalty fees may apply. Local costs and port fees are provided as estimates and are not contractual. Cargo is subject to the shipping lines acceptance. Sailing dates, arrival and departure dates may be changed or cancelled without notice or liability.
Cargo is to be presented for shipment in a condition free of any oil, soil, dust, grease or other contamination. This includes all surfaces both internal and external.
Very important notes for both Container and Ro-Ro:
In Colombia you pay all in Colombian Pesos and the port charges for the container, and not to each one of you. This means that one of you collects the money to pay and its important in Colombia to process this all together, because the Container WILL NOT BE OPENED IF ALL THE OWNERS ARE NOT PRESENT.
So be sure once you search for your container buddies, that you all have the same plans: YOU ALL SAIL, OR YOU ALL FLY. Even if Captains assure you're going to be in Cartagena in a certain date, don't trust them: you can't know. It depends on the winds and on the tides.

You need to use long pants and shoes at the port (no short and sandals) in both the DIJ inspection part 2 in Panamà AND the port in Cartagena, where they also request an international health or life insurance. This in case something happen to you when you pick up the vehicle.
You're still free to enjoy PANAMA with your vehicle! WOULD YOU LIKE TO KNOW WHAT YOU SHOULD NOT MISS?
VISIT OUR PANAMA PAGE. See you there!

BOOKING: what do you need and which Carrier to choose?
For the booking you need to have the following information:
– name, nationality and passport number of the owner of the vehicle
– vehicle: make, model, year, colour, plate number, vin number
– dimension and weight
Communicate all these to your agent or write them to your Carrier directly if you're doing things on your own.
If you register on your Carrier's website you can check:
Shipment Tracking
Create and View Bookings
Preview Bill of Ladings
Print Electronic Originals
Real-Time Sailing Schedules
Example: www.seaboardmarine.com/esc to obtain your personal identification code.
Confirm the quote and let's start the fun part!
You already know we opted for Seaboard. Wondering why?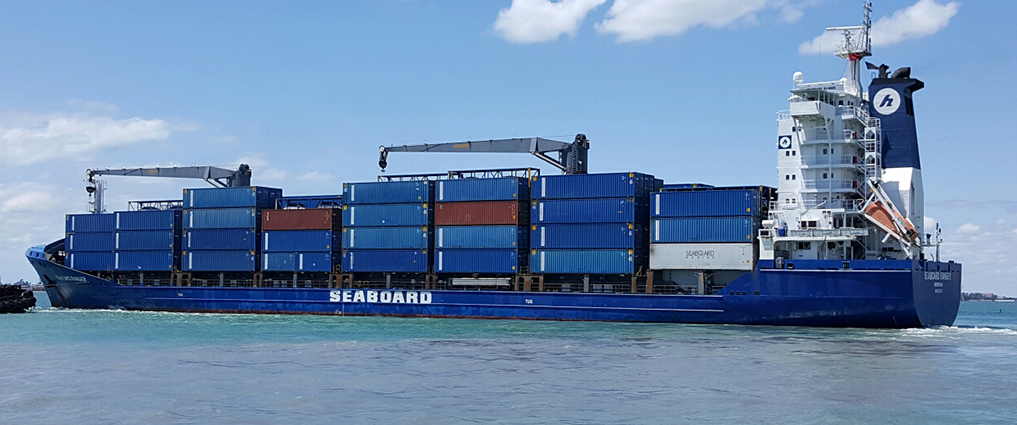 We shipped via Seaboard because it's the only company that work in all countries with own offices (so you don't have to go through an agent in Cartagena, who would apply different rates to Overlanders estimating how much money you have (for example= if they see that your car is a 2015, or a 2017 instead of a 2002 or 1993, they charge higher for new vehicles or also depending on the make).
This could never happen with Seaboard that charge what their head office instruct them to do. It's an American company and works since 30 years from USA to Central America and Caribbean with its own ship…
They do not rent space to other carriers, so we know that their transit is direct and you would not have any surprise that your cargo goes via transhipment to Cartagena. Ther are carriers and also agents that sale you a price and ship with a 3rd party for low-cost with transhipment. Anyway, all this information to let you know who is the carrier and the agent also would be in contact with them and you too.
I just arrived in Panamà, where should I stay with my vehicle?
Go to sleep behind the Radisson Hotel (it's on Ioverlander App, under the name "Balboa Park"), it's a dead end road and you can see the ships sailing on the Panamà Canal. It's a 10-15 minute drive from here to the DIJ inspection, but leave early because traffic can get intense.
Be sure you stop to take a free shower in a Terpel Va&Ven on the way here, and you refill on water and supplies as there are no services around this area. Still, there is fast free wifi and you may encounter many other Overlanders there, especially if close to the Roro shipping date.
BOOKING YOUR OWN CROSSING
Okay everything is been decided for the vehicle… But what about us?
You have many options!
Consider that you'll spend a few days without your vehicle, first of all, so no home on wheels.
Hostels and food are cheaper in Cartagena, that is also a much prettier city, yet if you ship via Ro-ro you are forced to wait in Panamà until your boat has departed, leaving you with a last minute booking option only. If you are shipping via container, once you left in Colon Port you are free to go.
Remember, it's important to arrange with whom you share the container to be in Cartagena all together to start the procedure, because the Port charges for the container their fees and not for vehicle and the container will open ONLY if all the owners are present.

Top Tip for Overlanders: Flying means you are sure you will be in Cartagena as soon as possible to start your paperwork nightmare once again to get your vehicle back. Still, it also mean you'll have to book a few night accommodation.
Considering that you may have to leave your vehicle at the port on Wednesday, on Thursday you start the boat tour, it means you'll be in Cartagena at best on Tuesday. That's why if you have a vehicle shipped via container, your container buddies have to agree on it… You'll be in open waters, with no possibility to receive phone calls or texts, no chances to inform them if you'll be late, and in the meantime they'll be there, waiting for your return to get their vehicle, and PAYING FOR MORE NIGHTS and DELAYING THEIR PLANS without having a clue of what is going on with you and the boat.
SO, FLIGHT OR SAIL? Want to know your options better? CLIC HERE.
DIJ Vehicle Inspection in Panama City (1st export Step)
You need your documents (original) and 2 copies for the inspection.
Passport, title, temporary import permit (you receive it at the border from custom).
From the title make copies both sides. Make 6 because you need 4 in Colon.
Last day to do it: Tuesday, but I recommend you to go at least one day before, in case something goes wrong. You can do it 8 days before you enter the vehicle at Manzanillo Port. Only from Monday-Friday.
It's important to start early in the morning because they only check 25 vehicles per day. We were there at 5.30am and were number 10. Number 20 was at 7.00am. But people keep getting there earlier and earlier.
Once there advice you are there for the inspection! Open the motor because it must be cold. You have to queue with the others and register your name and last name, then you will receive your number and you'll have to wait. At 7am one inspector will come and check the motor number against the number on the title. He will ask to see your passport, TVIP. This takes few minutes. It's more the time you invest waiting.
They work with Interpol and check if your vehicle is a stolen one.
Once done they will tell you to pick up the inspection certificate at 2pm. Again, it is valid for 8 days and need to be valid only until checked in into the port in Colòn.
With this document, you'll have the authorization to leave Panamà.
When you pick it up in the afternoon please don't use shorts … They request bermudas or long pants. They will ask your carrier (example: Seaboard Marine) and sailing Port (Manzanillo).
Direction and coordinates for the DIJ INSPECTION, EARLY MORNING: 8.966387,-79.544905
Check the place on googlemaps: https://goo.gl/maps/W5pJydPsWQD2
There's no sign and it's a gravel parking lot with a short building in it, with a ladder and a metal gate. If your rig is too big, you won't fit into the gate, so park on the road in front of it.
The area is not the best, it's quite a dangerous zone so it is NOT recommended to sleep there overnight.

Direction and coordinates for COLLECTING THE CERTIFICATE, EARLY AFTERNOON 2.00PM: 8.575550, -79.324332
Please park your vehicle where you did the DIJ inspection in the morning and walk there, it's safer!
Bring here same documents as in the morning and original passport. You will be required to sign a form.
Payment
Time to pay for your container fees or Ro-Ro.
The quote obviously varies, depending on your volume.
In our case we got the bank account number by our agent, in your case just follow the carriers instructions. We could pay Seabord Marine only in cash and in USD, which is weird considering that we could only pay in a Citybank branch so I really can't understand why a bank would not accept a credit card payment, but whatever…
We had time until the day after the consignment of the vehicle in Manzanillo but conditions on this may vary so check it out with your agent or carrier. There are bank branches in Colòn as well but my suggestion is to take care of this when you're in Panamà, so you'll still have your vehicle to drive around.
Send a picture of the copy of the receipt to your agent or carrier (must be legible).
Colòn: carriers office // aduana // RoRo Section from Manzanillo Port (2nd and last Export step)
Documents you need: passport, title, insurance, vehicle inspection =DIJ, TVIP + Bill of Lading.
Original and from all 4 copies, 5 for the Bill of Lading.
The Bill of Lading will be provided by your agent or, if you are doing things on your own, by the carrier, will have a booking number on it and it acknowledges receipt of cargo for shipment.
Don't sleep overnight in Colòn, it's a dangerous city. Better to sleep in Portobelo or Panamà and get there in the morning.
Steps to process the entry to Port from your vehicle:
a) go to Colon Manzanillo Port (N 9.36390° W 79.87810° ), to the Carriers office to pick up your bill of lading (if you did it yourself) or to have it signed and stamped if you have an agent. The guy at the port's entrance will ask you your Carrier and point you in the right direction. Some locations are on Ioverlander.
Examples: Seabord Marine (opens at 8 am). Evergreen offices are outside of the Port, location on Ioverlander as well.
b) go to the Aduana (opens 9 am). It's at the GPS coordinates N 9.34607° W79.87827°. When you entered the country you got two stamps on your passport: one from Immigration, which represents your entry to the country, and the second one from the Aduana, for your vehicle entry; it means your vehicle is linked to your passport and you can't leave the country without your vehicle. With this procedure, they stamp that your vehicle is exiting the country and so you are good to leave without it.
c) go to the Ro-Ro Section from Manzanillo Port; the entrance is super hidden as you have to park outside first and process all the paperwork at the different offices before you can drive in with your vehicle. GPS N 9.22360°, W79.524434°.
To enter you'll take the blue gate with the pedestrian walkway, give your passport in in return for a visitor badge. Then once inside you'll visit all four offices, everyone will ask you for copies and the second one will be for the port fees 79$.
Only then the driver can enter the car at the Valet Parking from the ro ro section and personal from Port that only work with overland vehicles and 0km vehicles from companies will receive your car. They check it, take pictures (this together with narcotic), have dogs smell around searching for drugs.
The painful part is that you'll have to handle them your keys.
Once done take your luggage and go back to the fourth window, where they will call your name to give you the Customer Receipt Manzanillo Intl Terminal. If your car has special instruction to start explain it to the guards and let written instructions. Personal from Port load the container, nobody can enter the Port and this works, apparently there have been no robberies in the past years looking at both Ioverlander and the PanAm group. Our agent stated that it's always the same dependent workers that handle weekly the vehicles; there are cameras all around the place.
Note to all vehicles: import and export goes through the ro ro section and this area handles all vehicles for container shipments, flat rack shipments and ro ro. The Ro Ro name is only because you enter this special area meant to be only for vehicles shipping.

Note for after the delivery of the vehicle: check your email in the next days. The carrier will send an Arrival Notification – Aviso de llegada de mercancia – once ready, with the Bill of Lading for Cartagena.
Also, you'll need to complete an online form for port&carrier in Cartagena called "Formato de Informacion Tributaria no residents en Colombia". It will be sent to you by the carrier OR your agent. Fill it, send it back alongside with your passport copy.
How to get back to Panamà:
Take a taxi to Colòn Bus Terminal, bargain the price, shall be 8$ in total.
Then from there take the first bus leaving for Panamà, cost is 3,5$ and takes 1.5 – 2 hours, it's a comfortable air-conditioned bus with movies going on all the time.
In Panamà the last stop is Albrook Terminal. You can get down there and take the metro (2$ for a metrocard at the automatic vending machines, plus a recharge, as much as you feel like) or call a uber or a taxi to your destination.
Where to stay in Panamà?
We suggest to always bargain if you show up in person. You can flag down the price by avoiding air conditioning or by staying 3 nights.
In Panamà we recommend Norita's Hostel, we paid 23$ per night for a nice private room with bathroom and air conditioning during the night. It's also in a convenient location between the new and the old city, so with one hour walk (or a 2$ taxi) you can get pretty much everywhere. It's located in Avenida Justo Arosemena between Avenue Ecuador and Calle 33 Este, 150 meters from the metro station Loteria. You can also book it from booking, and using this code you'll get a 10% discount 😉
www.booking.com/s/32_8/a55821f7
BOOKING YOUR OWN CROSSING TO COLOMBIA, FLIGHT OR SAIL? Want to know your options? CLIC HERE.
——–
Cartagena: arrival at the airport
Once you'll arrive in Cartagena, just before the exit of the "Arrivals" section, there will be an automatic machine telling you the taxi fares. Get a receipt for your destination there.
Then go to the Departures section and withdraw money from one of the ATM machines, it's important to have the local currency not to get really bad currency rates from the locals.
Cartagena: where to stay?
We stayed in Maos House El Bosque, which is not in the pretty city center but was a 10 minute walk from our Port (this depends on your Carrier tho) so we could do our paperwork easily. A taxi to downtown would cost us 6$, or 2$ each for the bus.
We paid 42$ for an apartment for 3 nights. You can also book it from booking.com, and using this code you'll get a 10% discount 😉
www.booking.com/s/32_8/a55821f7
We were so happy with the owner, she was lovely and super helpful. The position also saved us many taxi rides due to the vicinacy to the port and Seaboard offices.
Cartagena Import – Getting your vehicle back
Remember: at the Port you need to be together to pay port fees and open the container. Import takes 1 1/2 days. Port charge for the 40 container USD 430.00 in total, 40% each vehicle x 2 + 20% motorbike. They attend you as group!!!
Carriers Address for Seaboard: Barrio El Bosque, Av. Pedro Vélez # 48-14. Dentro de las instalaciones del terminal marítimo Compas.
Teléfonos: 6722326 / 6722341
Horario de Atención: 08:00 – 11:00 AM / 02:00 – 05:00 PM
Contact: Linda Patricia Bello
Example of Procedure for Importing your shipped vehicle in Cartagena
@ Seabord Marine:
This changes for every single carrier so it's hard to let you know… Take this as an example of procedure, but some parts will always be the same for everyone (example, DIAN).

1. Go to the Seaboard office (no sign, tiny entrance behind the trees), sign some documents and get their bank coordinates, get a taxi to the closest Citibank, which is HERE. Taxi would be approx 7000colombian pesos, plus 2500pesos for the toll bridge you'll cross. There you'll pay the correspondent in colombian pesos of 50 american dollars, CASH ONLY AS USUAL.
Go back to Seaboard marine office to get it stamped (probably it will be in the early afternoon), get the name of the port of unloading: Sociedad portuaria.

2. Go to the DIAN (ADUANA) HERE with copies of bill of lading, the owner of each vechicle fills the form for obtaining a TVIP. You'll be required to have copies of passport, title, driving license, the stamp of entry to Colombia in your passport, the new bill of lading stamped, Fill a form, go to make copies of everything HERE and then come back to them.
3. Go to Sociedad portuaria HERE. I wish I could tell you you'll make it to this point in the first day, but it's hard you will. Every office you go, there's a long wait. They all close 12pm-2pm for lunch. In case you didn't make it the first day, go there at 8.00am next morning when they open, and there are some chances you'll make it through in one day. The correct entrance is the building with glass you see in the picture. Go to the reception on your right, be registered in their system with your passport and get a pass to get inside. Then enter and go to the Service to the Customers office on the right at the 1st floor, just beside an ATM machine exactly HERE. Ask for Mr. Raphael Diaz, fill some forms, he will give you the invoice to pay (guess what? Cash only, colombian pesos).
Pay the invoice, wait for the container to be located and moved to a special spot for inspection.

4. First of all you need to wear a t-shirt and long pants and closed shoes. This part was confusing, because to enter into the port AT THIS STAGE ONLY you need to have a private health insurance, and Tea had told us that the container would not open if all the vehicle's owners were not there.
We proved this was wrong.
The only person that need to be phisically there at the opening is the one owner who's name is on the invoice of the container. In our case, Marco. So in case someone already has the insurance, it's a good thing to make sure the container is under his name, so the others can avoid to pay 25$ for one, if they don't want to (tho it's always good to have one).
Get inside the port to open the container with your new fancy helmet and suit, unload the cars, check them and take pictures (self-inspection) of all of them, outside and inside, and VIN number as well.
5. Go to Dian and show the pictures to the officer, he will stamp the temporary import permit and give it to you.
The glorious moment of the opening
TOP TIP IF YOU ARE A GROUP: as you don't have to be all there to do the inspection, while the owner alpha makes the inspection, the other members of your container party can go to Dian to collect the TVIP for everyone (including the guy sweating in the Colombian heat doing the inspection).
The inspection owner can send the pictures to the other via What's up.
IDEAL WAY TO DO THIS:
– One does the inspection (Marco was told to come at 1pm, lasted until 2.30pm. By 2.00 pm the guy at Dian had the pictures).
– Two are at Dian, which opens at 2.00pm, ready with the pictures. They collected the TVIP for everyone. They then go to make copies of the TVIP in front of Dian.
– The two guys at Dian split. One goes with the copies to make the insurance for EVERYONE in the city center, BETTER IF THE PERSON DOING THIS IS NOT A VEHICLE OWNER AT ALL. Be sure he has copies of title, passport, driving license and tvip of everyone. He must know for how long everyone wants to stay in Colombia and have the money.
The other guy who was at Dian takes the original TVIP and the original BILL OF LADING of EVERYONE back to Sociedad Portuaria.

6. Everyone slowly makes their way back to Sociedad portuaria, where with the pictures, the bills of lading and the tvips they can finally start processing the papers for retrieving the car and exit the port (will take minimum one hour, in the meantime the guys at the insurance will come back). Offices close at 5pm, so you have to be have them done by 4.30 maximum.
7. Get inside the port (t-shirt and long parts required) with your new documents issued and your passport and get your car. For this part, you are not required to have an health insurance or a vehicle insurance. But in order to drive in Colombia, a third party insurance is mandatory, so if you don't have one is at your own risk… But know that the port won't stop you.

VANTO IS BAAAACK!!
Other things you shall know:
– The non-owners of the vehicles CAN'T ENTER THE PORT.
They'll stay in the Sociedad Portuaria waiting for you, with air-conditioning and a bad service on their phone.
– At some point you'll run out of battery on your phone (all of us were, the bad service drains it quickly). Bring a usb cable and an adapter, they have power sockets at the Sociedad Portuaria. Or a battery pack.
– It will be damned hot. You can wear comfortable clothes and get changed in the toilet just before entering the Port.
– After the third day your vehicle is in the Port, you will be charged a storage fee PER DAY, depending on the size of your vehicle. For our 5.5 mt long van it was 6.5$ a day. The container arrived at 7pm? Counts as a day. There is a Sunday or a National Holiday and offices are closed? Still counts as a day.
Sundays port is open, the offices to get the papers to exit it ARE NOT. Always consider this when deciding when to ship. Avoid Semana Santa and all major holidays. We had 1st of May ahead of us, so if we wouldn't have made it by 30th April we would have to pay storage fees.
I know, it's a long procedure, right? Some carriers even take 3-5 days for you to collect the vehicle.
I also read on Ioverlander of a scam with Wallenius (March 2019) saying that they tried to tell the guys that an agent in Cartagena was mandatory, and automatically putting the name of an agent on the bill of lading, which resulted in them losing one day to get it changed in their name. They only paid 350$ like this, instead of the 700$ they first got quoted for!
So watch out and always check your documents, at every single step.
We were people with a container, people with a flat rack, and ro-ro people. This article is the result of all our experiences together.
Hope it helped you! All our vehicles arrived with no damages and in perfect conditions. We were even gifted of strips and chains that got used to keep our vehicles still. You may want to sell them for 100$ and get some money back.
If you liked this article, feel free to subscribe to this blog and to all my social networks to show me your support 😀 :
Facebook Polarsteps Instagram Youtube
You're now free to enjoy COLOMBIA! WOULD YOU LIKE TO KNOW WHAT YOU SHOULD NOT MISS?
VISIT OUR COLOMBIA PAGE. See you there!